1. Leaving for Acen in the morning.
2. I graduated.
3. Insane summer is go.
4. No Giderah for a while longer.
And to elaborate!
1. Acen has come again! I am leaving in the morning for Acen, a.k.a. Anime Central in Illinois. I'll be in artist alley all weekend so if you happen to be there stop by and say hello

Me and ~
purplegodess
have been going to acen for quite a few years now and do henna tattoos in the artist alley. I am on staff again this year so I might not always be available but I do my best to get to my table as often as possible. I'll be under mfstudios.
Unfortunately. I will not have any Giderah stuff available except for possibly an original sketch or 2. However if you find me I'll have some Giderah buttons to give out to anyone who comes and asks for one

So here is me: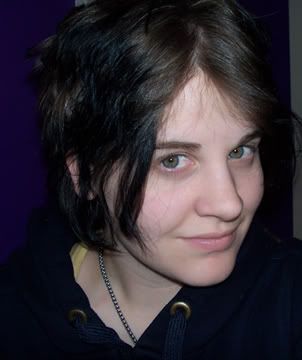 Hope to see some familiar faces this weekend!
2. I graduated! Can you believe it? I really can't- it feels like school went so fast. I walked on Saturday, my family was all in town. It was really cool. So yup... I have my BFA in Digital Media, Multimedia Design.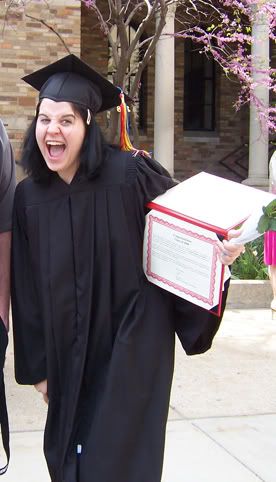 Yes...I have successfully ruined every "special moment" my mom has ever tried to take of me.
3. Of course it really doesn't feel like I am done with school. I still have 4 summer classes to take in order to be given my diploma..all crappy gen ed. classes. ugh. Physics, Poetry, Contempory Issues, and Human Sexuality. *kills self* The reason I say it is a crazy summer is because I have opted to take all 4 classes at once. This means I have 4 full classes crunched down into a month and a half of long hours and hard work. I have class Monday-Thursday starting the day I get back from Acen. I Work my job all day Friday then will be driving from there to Detroit every weekend to take care of my grandmother. It's going to be a little intense so I wouldn't expect me to be online too often or working on anything except on the weekend after my Grandma has gone to bed and my homework is done.
Phew. But the pay off is that I only have a month and 1/2 of school left and then freedom. With all the time I have Ill will be caught up so fast! *jump for joy*
4. However, I am starting to believe that this means I will have very little time to work on Giderah. I would not expect much until the end of June

But I swear I will try my hardest to get some of the new pages up soon.
Thanks so much everyone! I hate that I can't be on right now I have so many new people I want to talk to and am so far behind

But seriously thank you all for your kind words and encouragement! I will be posting my Final animation for school asap

I think you will all really like it.
All Commissions, Trades, Requests are
Closed
until further notice.
Current list of work to be finished




= ideas sketched/sculpted



= working on final lineart/sculpture



= coloring/painting
Commissions:
~
albinoshadow



~
wingedsiamese



*
ChibiSilverWings



~
ChocoboDragon



!
BlackWolf-Embers



~
Guncraft



~
sibirianwolf



~
KayFedewa



~
DraggyGirl



*
MichelleWalker


:

Sculpture Commissions:
*
ChibiSilverWings



=
Lazeros



~
isil-The-Werecat



Trades:
~
Psychopomp16



*
rozga-chan



~
K-X



Contest prizes!
!
pollo-chan



~
PlainYellowFox



=
ElementalSpirits



~
Feline-Ferret



~
YamiInux



*
colonel-strawberry



!
Nokkel



~
Licorize



~
Ookami-girl



*
Pookabay



Old Prizes and requests still owed :S :
!
sp00f



~
bloodyfeathers



~
Vincer



~
RandYoungtown



If you are missing from these lists it probably means we have never finalized the details but let me know if i was dumb and left your name off. <3